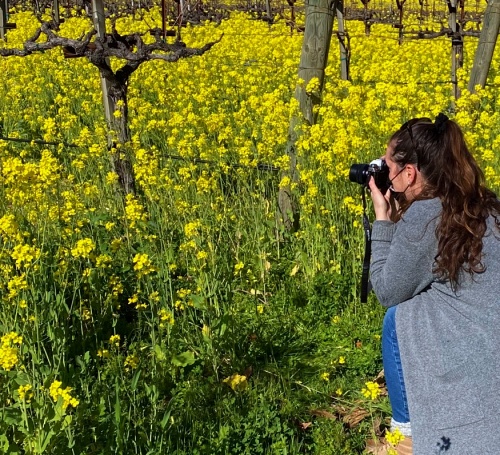 Katherine (Kat) was born in the California wine-growing region of Napa Valley, where she found an early appreciation for nature and the outdoors in a deeply-rooted agricultural community. She moved to Honolulu in 2013 and spent seven years living, working and traveling throughout the Hawaiian Islands. Katherine is currently based back in her home state of California but still reconnects with Hawaii as often as she can. Her writing focuses on sustainable tourism, wildlife conservation, travel and food.

Some of her best writing memories include interviewing a traditional Irezumi Japanese tattoo artist (while he was in the middle of giving a tattoo), getting an impromptu meditation lesson from a Buddhist minister at Myohoji Temple in Honolulu, exploring sustainable tourism in Palau and completing an in-depth guide to Na Pali Coast State Park on Kauai.
See more of Katherine's photography on her Instagram page, @katgalla
Volunteer Work
Katherine has been active in the environmental/animal welfare non-profit community since high school, where she worked as a volunteer at Sunrise Stables Horse Rescue and Paws for Healing. After graduating with a B.A. in English from Chapman University, she spent a month living in a small village in Thailand working with the Save Elephant Foundation. She completed internships at City Lights Publishing in 2013 and the Borgen Project, a non-profit publication fighting global poverty through advocacy, fundraising and education, in 2017. Currently, Katherine volunteers at Jameson Animal Rescue Ranch in California.
Experience
While her love of travel and non-profit work have given her insight into the issues plaguing the world today, Katherine's time in Hawaii opened her eyes even further to the plight of the earth due to climate change and global pollution. During her time in Honolulu, she began shifting her focus toward sustainability and environmental writing.

Katherine has been a regular contributor for Tripsavvy since 2018, covering travel topics primarily about California, Hawaii and sustainable tourism. Most recently, Katherine has worked as a regular contributor for Inhabitat, exploring topics like current environmental events and sustainable lifestyle, and Treehugger, a modern sustainability and nature site with more than 120 million readers each year. Katherine is also certified in sustainable tourism by the Global Sustainable Tourism Council (GSTC) and has 10 years of hospitality experience in the food industry.

Education
Katherine received a Bachelor of Arts in English Literature from Chapman University, where she was also a member of the Sigma Tau Delta English Honor Society. She also holds a certificate in Sustainable Tourism from the Global Sustainable Tourism Council (GSTC).